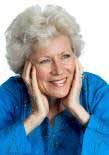 Pamela O'Cuneen was born in Perth, Western Australia. She read English and Education, taught for a bit, then left to travel in Europe and to study music and languages. In Perugia she met her husband, who was then a priest. After a 'Thorn Birds' romance, they parted, married ten years later and to their own surprise, began a Diplomatic life. In London she had worked in the Overseas Scholarship section of the British Council - good preparation for the years of work and travel as a Diplomatic wife. She studied Psychology at the University of Zimbabwe, then still linked to the University of London and wrote a thesis on 'Coping Mechanisms in Short Term Multiple Sojourners ' - in plain English, how do people cope when they change from one country to another every few years? Results have been presented in several International Conferences and published in articles in 'The Guardian Weekly'.
A born communicator, at home on the public stage, Pamela has given numerous lectures and workshops for international organisations, on 'Culture Shock,' 'Styles of Adaptation,' and 'Cultural Differences'. She has been interviewed on psychological and communication topics on African and Caribbean TV. A vivacious and charismatic public speaker, she is a regular lecturer at Farnham Castle International Briefing Centre in Surrey, for executives departing on overseas postings. She gives light-hearted lectures on cruise Ships on the Diplomatic Life and together with her husband is involved in a lecture series on South African History, Traditions and culture, and on the Slave Trade.
While overseas, Pamela held office in a number of International Women's Groups, concerned with local welfare issues and adjustment to a host culture. She has written a handbook of advice and training for younger women new to the world of International and Diplomatic life and edited an International Cookbook. She is keenly aware of the issues facing those who live abroad and continues to counsel young Diplomatic wives. Recently she has become involved in considering aspects of Reverse Culture Shock, experienced by homecoming travellers.
Hobbies and Interests. As well as being an animal lover, she is a pianist, harpist and accomplished singer. She has taught meditation for many years, and has produced meditation CDs to those who would like to experience its benefits. She works with private clients in Counselling and Stress Release, and is a Reiki Master, Journey Practitioner and Interfaith Minister. She has recently completed a family history.-'From the Alps to Australia'. If ever she has time, she likes to play the piano and do old-fashioned things like watercolour painting.